The Target Setup Utility
Getting the target in the right place and set up appropriately is important. To save any concern over whether your test results are valid, FoCal has a Target Setup utility which checks lots of details about your setup and lets you know if anything needs adjusting.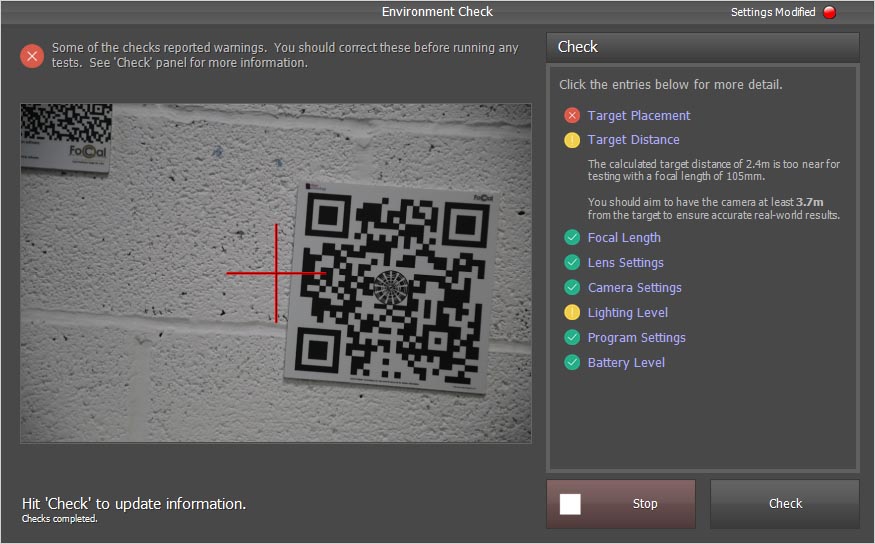 Target Setup - Checks
FoCal offers lots of ways that you can test and check your camera, and most of these require the use of a calibration target. For the test to give the best results under the widest conditions, the target should be set up in a fairly specific way, and the Target Setup Utility is designed to make this both as easy as possible and to give you confidence that everything is correct and ready for testing.
Operation is simple:
Put the target on the wall and aim the camera approximately in the right direction
Start the Target Setup utility
Have a look at the Check panel for any warnings or advisories and either fix them or make sure you understand what they're indicating.
Get testing with confidence!
The tool checks the following:
Target Placement
Target Distance
Focal Length
Lens Settings
Camera Settings
Lighting Level
Program Settings
Battery Level
And reports each item as:
| | | |
| --- | --- | --- |
| | Warning | Condition that should be corrected before running tests |
| | Advisory | Condition that is unusual and should be checked to ensure it is intended |
| | Untested | Not all settings can be checked. Check these manually |
| | OK | Checks passed without issue |
Focus Controls Mode
When using the Aperture Sharpness test, you need to start with the best possible focus. For this, the Target Setup utility has the Focus Controls mode.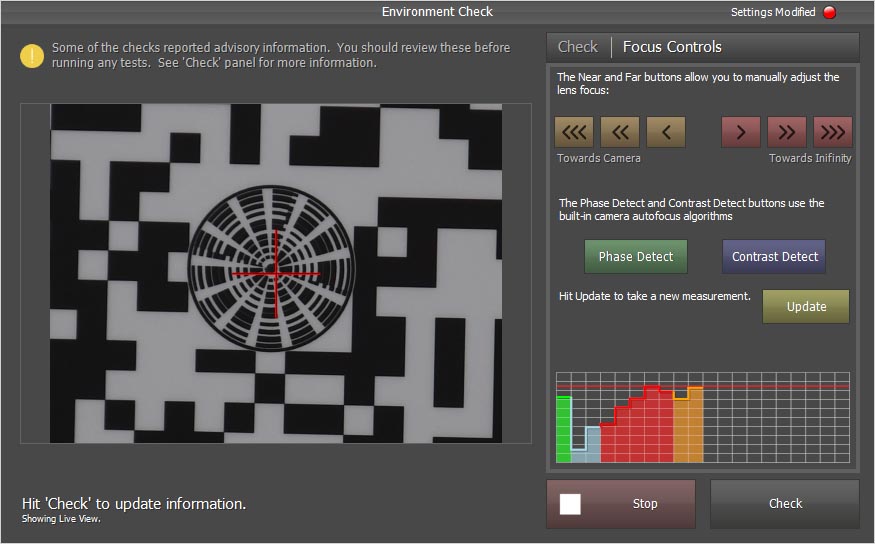 Target Setup - Focus Controls
This panel allows control of the camera focus system and driving of the lens, and also reports back relative qualities after each adjustment operation in a simple colour chart so you can determine the best possible focus before starts the Aperture Sharpness test.
More Information
For all the details take a look at the FoCal reference manual in the Documents Download page.