What's New in This Update
Welcome to FoCal 2.9 MR1. This is our first maintenance release for FoCal 2.9, containing mostly bug fixes and a few internal improvements.
Version Details
| Component | Version | Type | Release Date |
| --- | --- | --- | --- |
| FoCal – Windows & Mac | 2.9.9.6252 | Stable | 9 Sep 2019 |
General "headline" features since the last release are shown below, with more details available in the changelog.
What's New
This version has a few new features and also fixes issues that either missed the cut for the release of FoCal 2.9, or issues raised by users since FoCal 2.9 was released.
Thank you to everyone who used the beta versions of this release, your feedback is hugely valuable in both reporting issues and confirming fixes.
Database Backup Import
For a long time, FoCal has had the option to save a backup of your results history – this is available in the Advanced tab of the License window (Settings > License > Advanced).
We've now added the ability to import backups so you can restore all your historical results: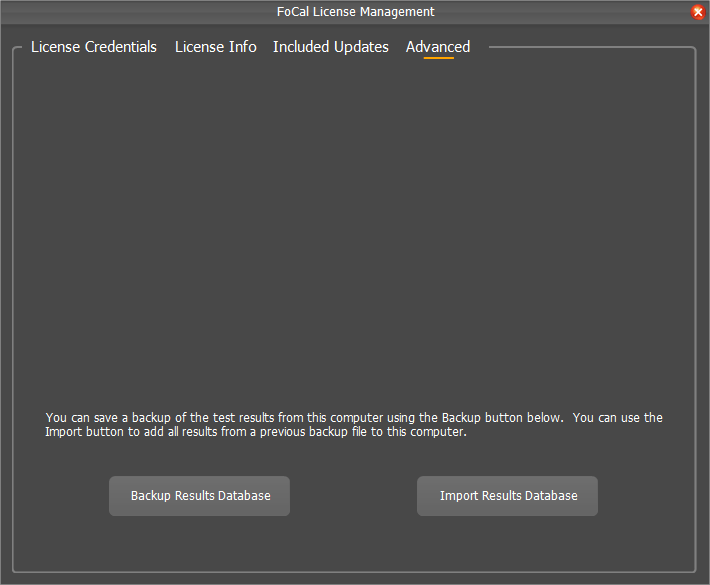 The Import Results Database button will import a backup file (.db2 format) and merge the results with your current database removing any duplicates as necessary.
Not only will this allow you to restore backed up data, but you can also combine data from multiple machines. To do this, simply create backup files from each machine, and then use the Import Results Database" button to import all the results.
Easy Access to Support
Pre-release versions of FoCal (Alpha and Beta versions) have had a button to send feedback within the Settings window. We've now enabled a Support button for Stable versions.
By clicking this, you'll be directed to a page with links to the FoCal Help pages, FAQs and information on how to contact support should you need to.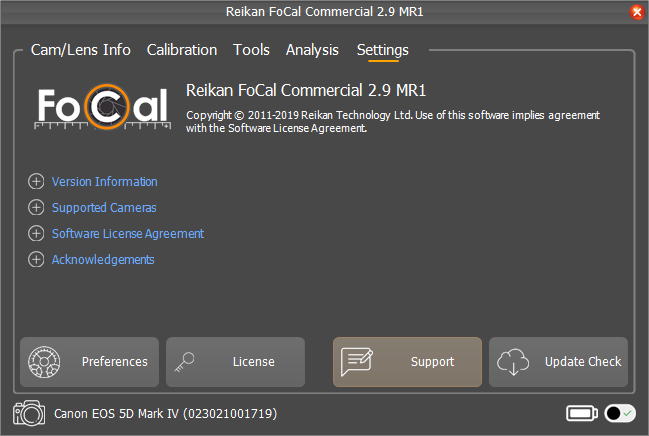 Lens Database Updates
The lens database has been updated to include as many reported lens mismatches as possible. There are some lenses that cannot be resolved with the information reported from the camera, so we will be offering a selection from a choice of possible lenses in a future release.
Note that at present, the lens database is built in to FoCal so updates will only occur with a new release. We are adding functionality for FoCal to be able to automatically download lens database updates and that'll be available shortly in a future release.
Thank you very much to everyone who's reported incorrect lens names!
Friendly Names and Test ID
Within FoCal, names of things like the release version and the version of Windows/Mac will be shown in a more friendly way. For instance, rather than seeing "2.9.x.yyyy" as the version, you'll see "2.9 MR1" as shown here: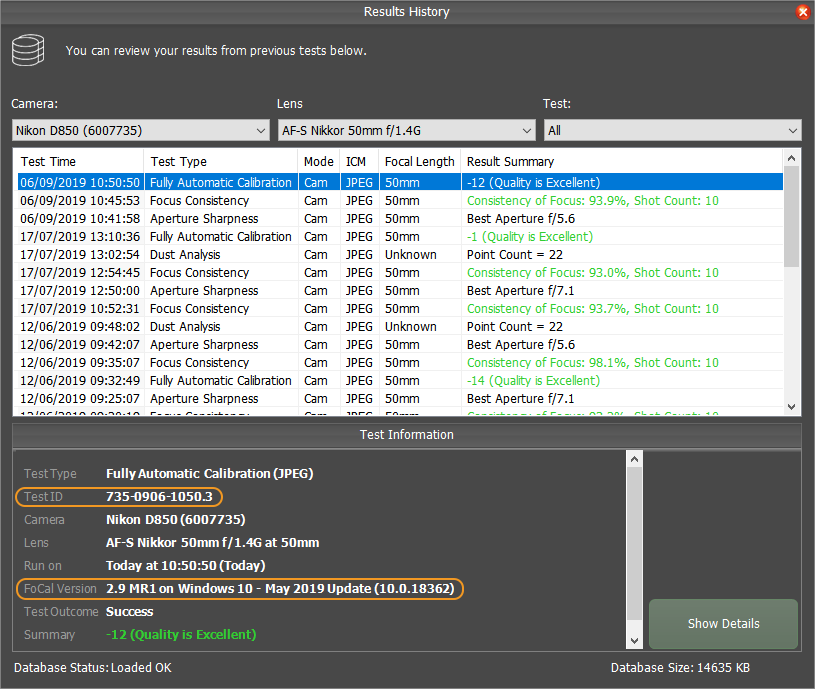 Each test also has a unique Test ID which can be used to uniquely reference the test. It's shown in the history window and the report, and can be useful to quickly identify specific results from a batch.
Here's what the Test ID (and the "friendly naming" of FoCal version and Windows version) looks like in the report:

Bug Fixes
We've fixed some control issues on both Nikon and Canon cameras, improved camera and lens name matching, fixed a crash when clicking points in the Dust Analysis test, made quite a few minor user interface changes to tidy things up and fixed most issues raised by users through our ticket system.
If you're feeling geeky, there's more details in the changelog.
Need Help?
In the first instance, you should use the new Support button in the Settings tab of FoCal. The extensive online help pages along with the FAQ should answer most questions. If not, then there's the option to contact support at the bottom of the page.
If you've got any corrections or suggestions for improvement on the online help, please let us know! This is a new feature and is constantly being updated to provide more information, explanation and help where you need it. If you feel you'd like more details about any aspect of the software in the help then do get in touch.
Previous Release Notes
Release information for FoCal 2.9 is available here (and the MR1 beta here)
Changelog
This is a non-exhaustive list of items fixed/changed since FoCal 2.9.