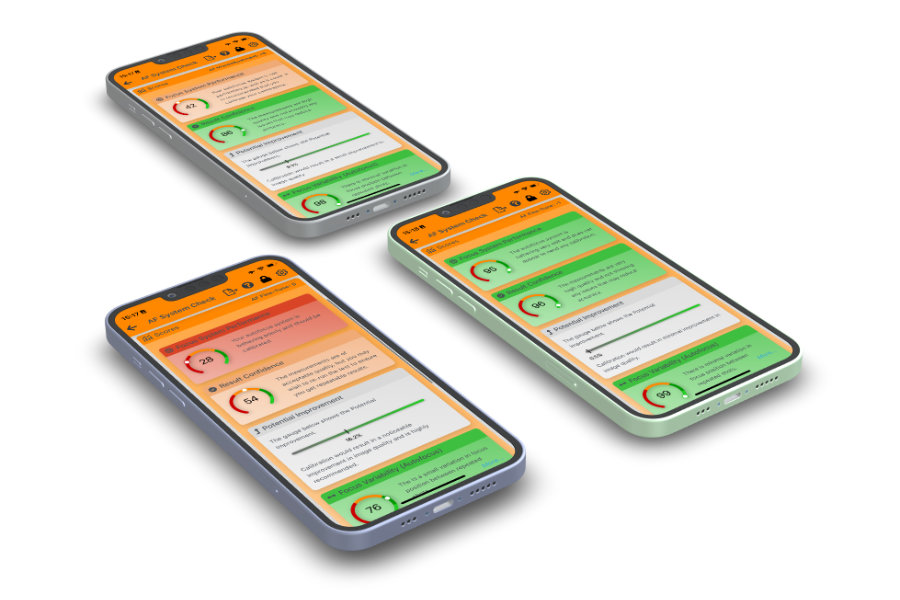 Autofocus Tuning in your pocket!
FoCal Mobile brings the features of FoCal to your mobile devices
Connect your camera and FoCal takes control.
Setup tools for confidence in your results.
Check the performance of your autofocus system
Sync your camera time to your mobile device
Tune your autofocus with FoCal Mobile Pro
Pro tools FREE with FoCal Pro (Desktop)*
* FoCal Mobile Pro is available free with a FoCal Pro (Desktop) license within support or as an In-App Purchase once the app is installed. Please see the appropriate mobile store for current pricing information.
FoCal Mobile FREE Features
FoCal Mobile is available for free, enable Pro features for more!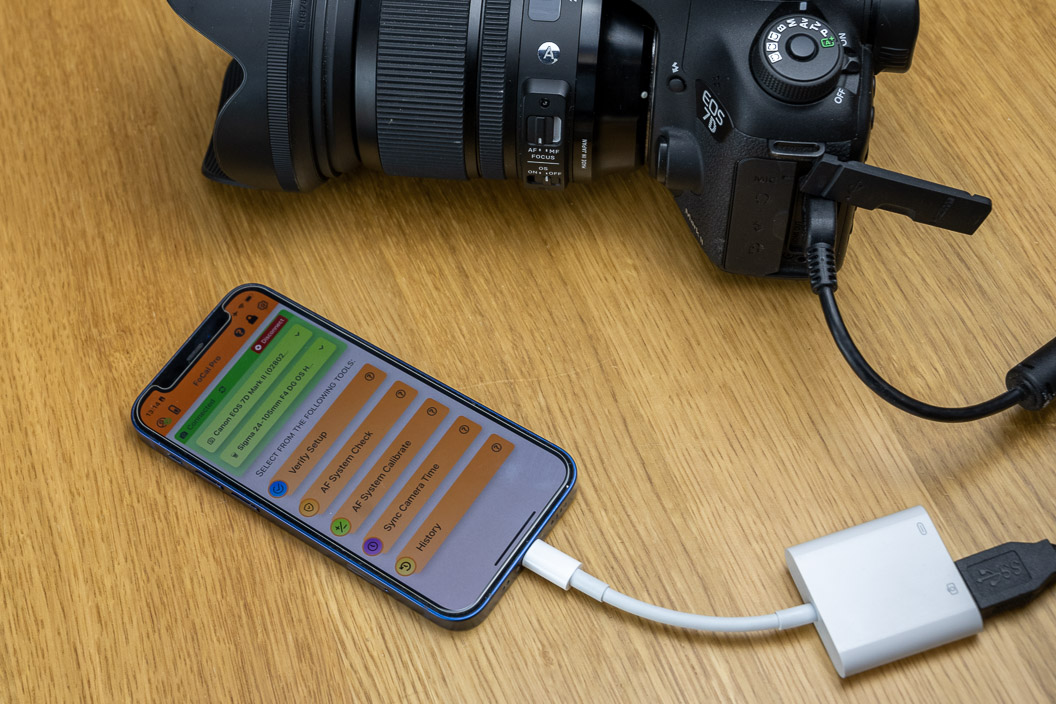 FoCal Takes Control
Connect your phone or tablet to your camera using a USB cable, and let FoCal take control of your camera.
* Lightning-connector devices (e.g. iPhone) require an Apple USB-3 Camera Connection adapter. USB-C devices (e.g. Android phones, iPad) can connect directly. Micro-USB devices require a generic USB-OTG adapter.
Verify Setup
All Setup Correctly?
FoCal will automatically check your camera alignment, settings on the camera and lens, light level, battery state and lots more, highlighting anything you might need to adjust before testing.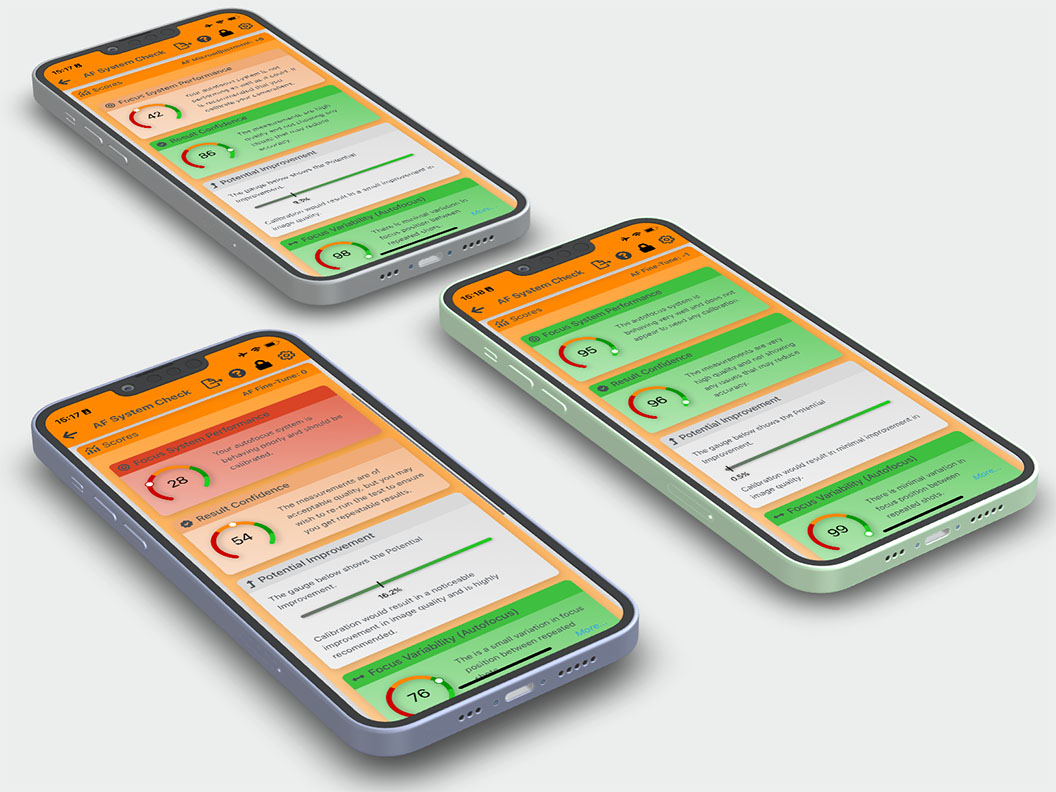 Autofocus System Check
Check your Autofocus
Once you're all set up, it takes just a single button tap… 2 minutes later you'll know if you really are getting the best from your camera and lenses.
The results are presented with easy-to-understand scores, and you can even compare captured images to see any improvement you could achieve.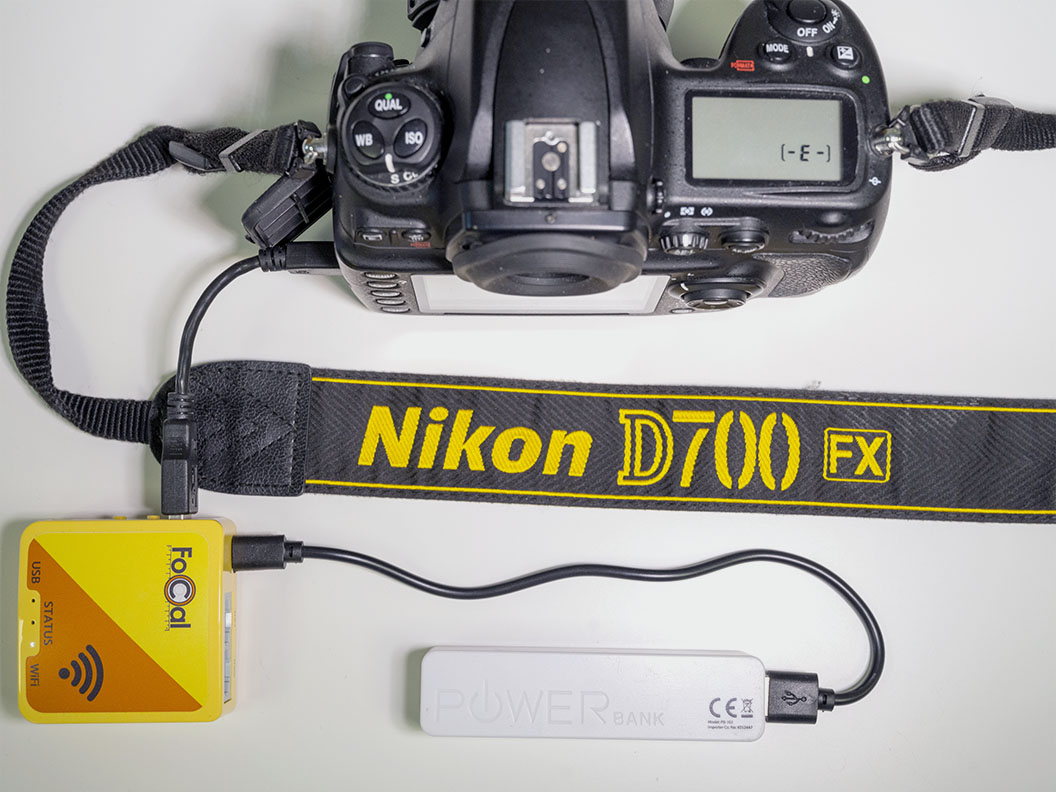 Wireless Control
Fully supports the FoCal Wireless Camera Module, allowing you to use FoCal wirelessly.
Works with all FoCal-supported cameras - add WiFi capability with FoCal to your camera all the way back to the 2007 Nikon D3 and Canon EOS-1D Mark III!
FoCal Mobile Pro
Enable Pro features with a FoCal Pro (Desktop) license* or In-App Purchase…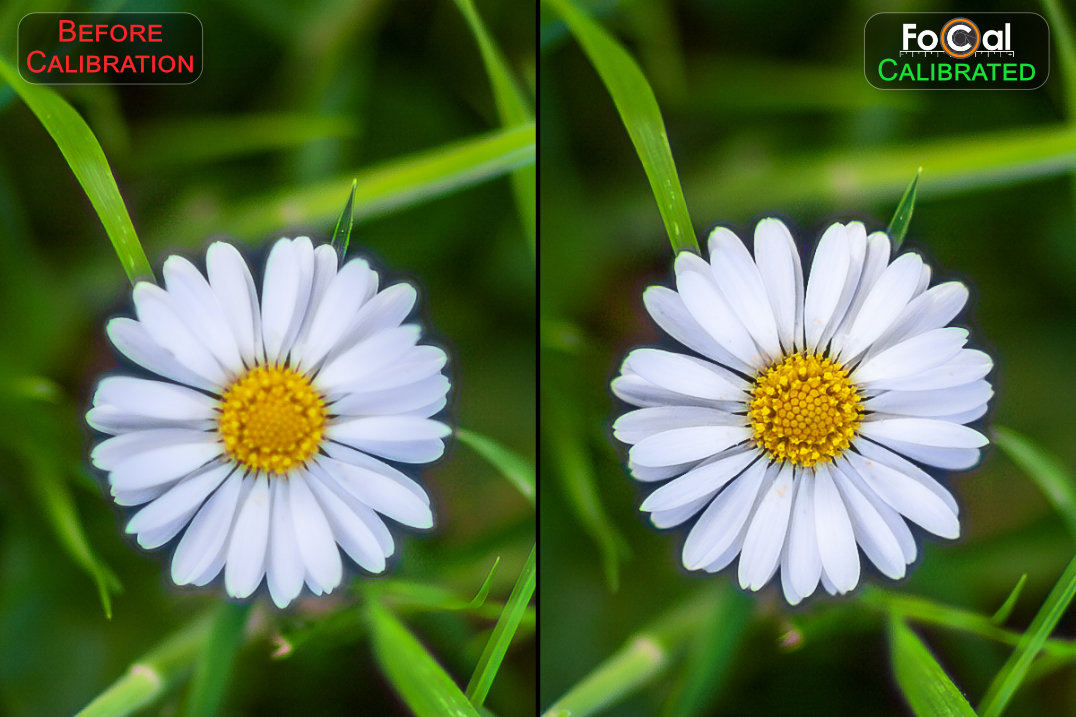 Autofocus Calibration
Improve your shots!
Let FoCal automatically measure the performance of your camera and then tune it to get the very best from your autofocus system.
A few minutes is all it takes, and the improvement can be dramatic!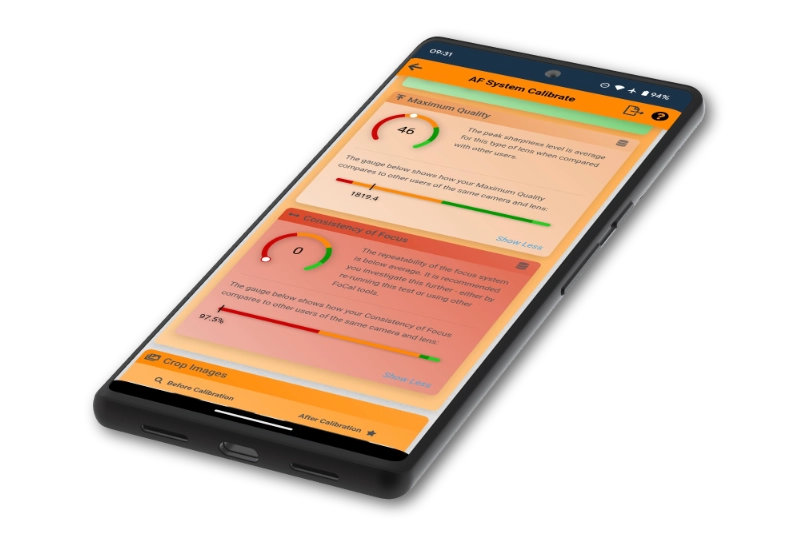 Take a deeper look at performance
With FoCal Mobile Pro, there's more information available at your fingertips.
Look into autofocus consistency, astigmatism issues caused by lens misalignment or aberrations, image motion due to movement in the lens and more.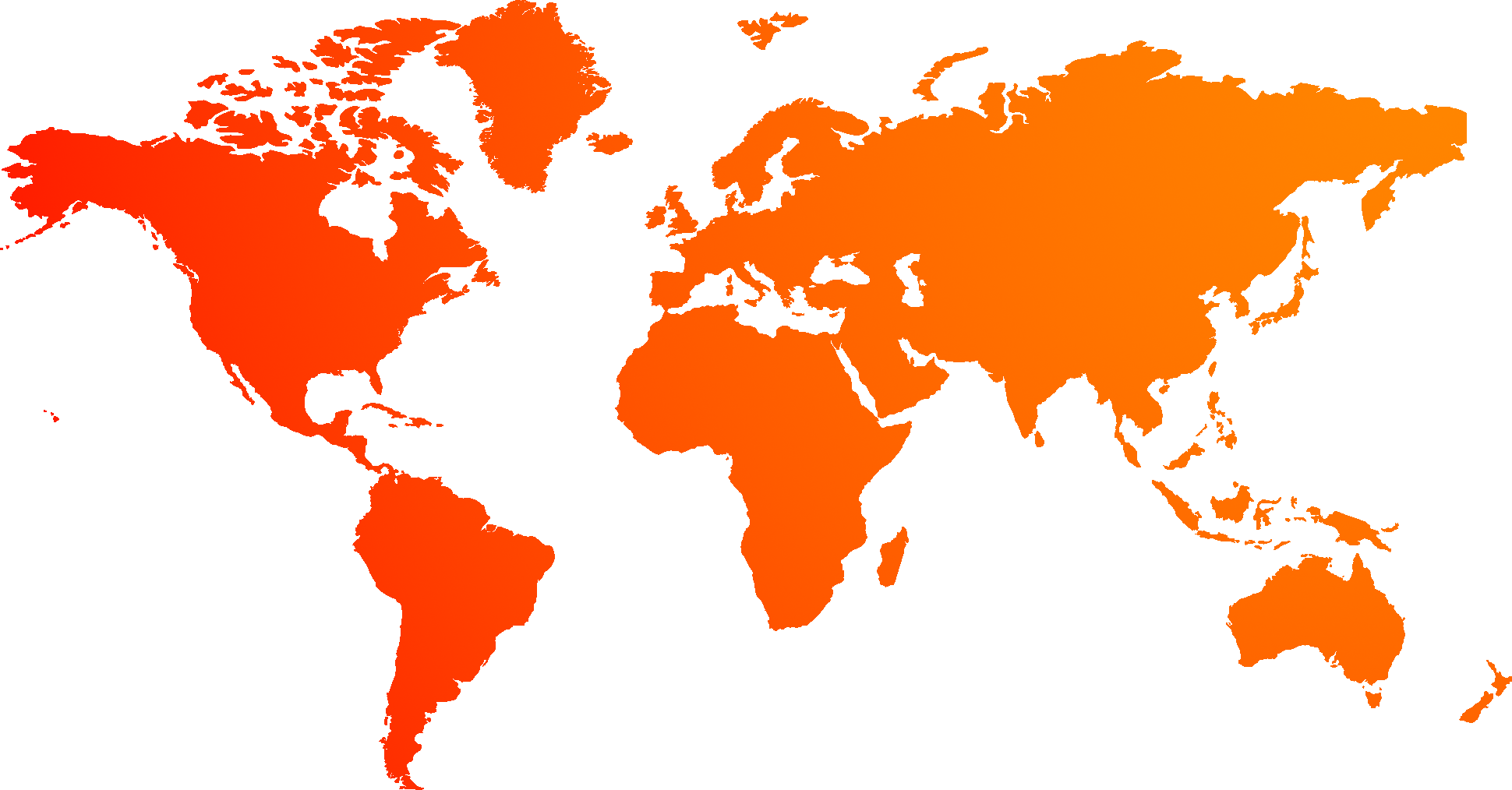 Cameras & Lenses

Tests

Data Points
FoCal Comparison Database
How does your kit really perform?
For almost 10 years FoCal users have been sharing results which we process and use to build profiles of the "real-world" performance of thousands of cameras and lenses.
FoCal automatically applies these profiles to your data, showing you how well your kit is really performing.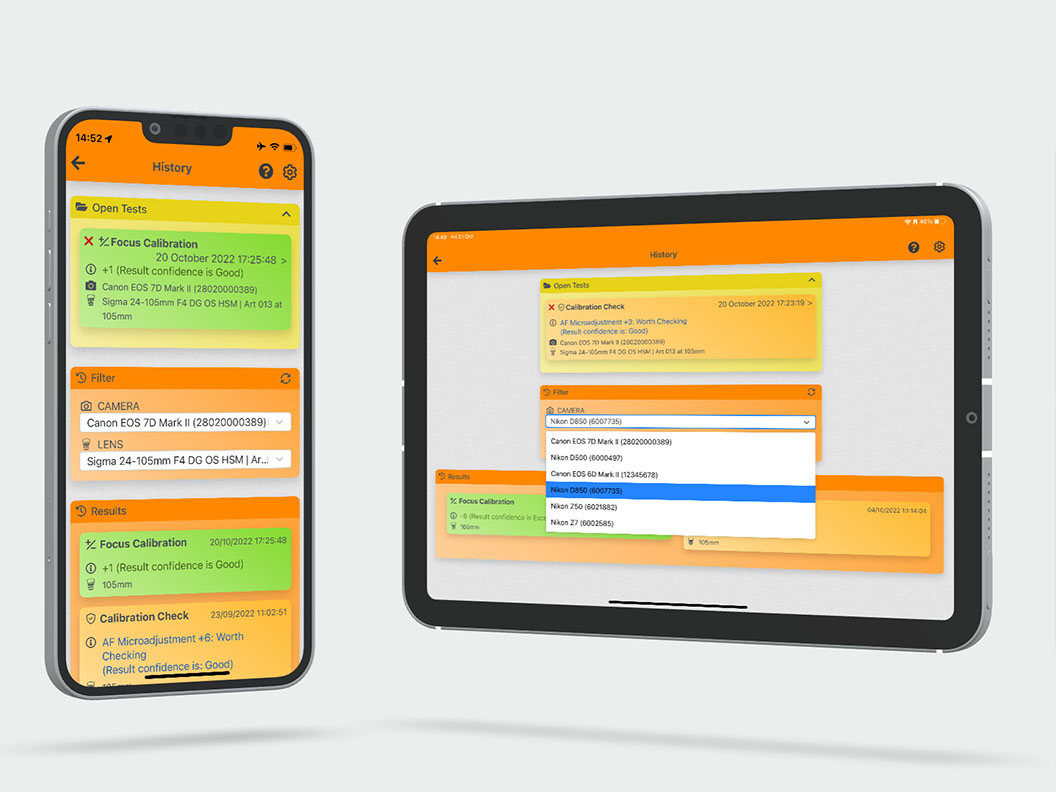 Look Back
Look back through your previous results. You can bring up full details of previous tests to see how things have changed.
With FoCal Mobile Pro, you can also export test results to FoCal Pro Desktop for more detailed analysis.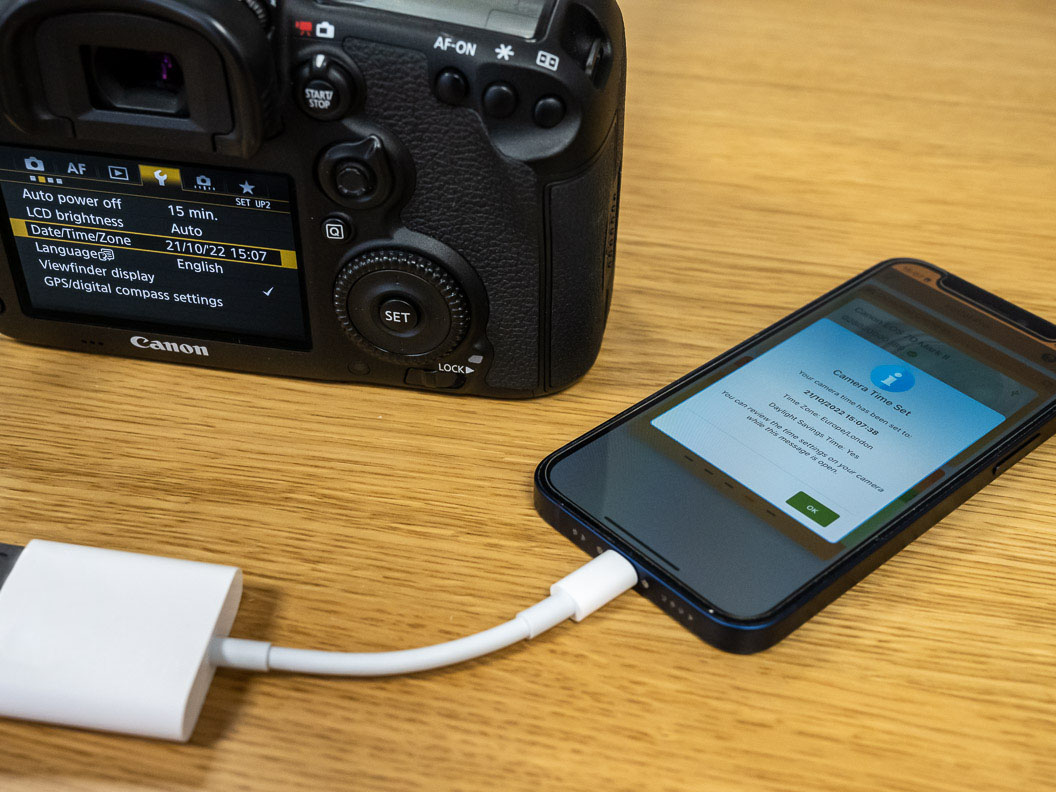 The right time… even faster
Sync your camera clock right from the front screen of FoCal Mobile. One tap, a second or two later and your clock is at perfect time - great for syncing clocks just before a big event where you're using more than one camera.
Get FoCal Mobile
Head to the store for your mobile device to get FoCal Mobile for free.
* FoCal Mobile Pro is available free to FoCal Pro (Desktop) license holders within their update period.
Alternatively, you can use In-App Purchasing to enable the Pro features once the app is installed. Please see the appropriate mobile store for current pricing information.
See the required technical specifications for running FoCal Mobile.